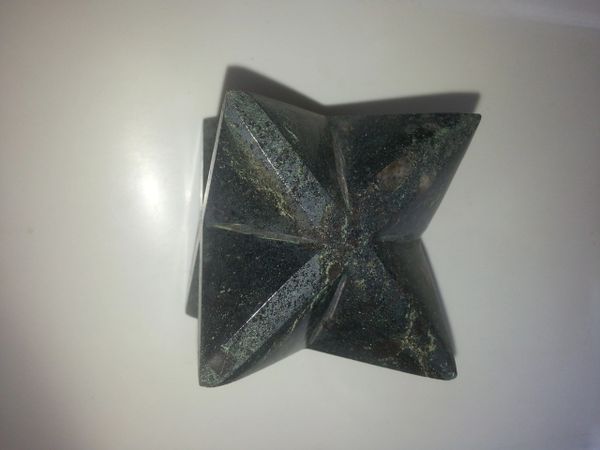 Hematite Star Merkaba
Name: Hematite Star Merkaba

Color: Black steel solver sheen in shades of earth black sheald

Shape: Merkaba a secret geometrical shape.Used for healing.
Size : 365 gms weight
Metaphysical properties:
Hematite helps to absorb negative energy and calming property makes the user very level in times of stress or worry. Hematite is a very protective stone, and is great to carry to help you stay grounded in many situations. Hematite can boost confidence, and is also good for working with the Root Chakra. Hematite is a very helpful for women who are going through an abusive marriage.
A Hematite Merkaba is a tetrahedron, made by the intersection of two, three-sided pyramids. Merkaba is a great tools for working on your spiritual transformation, which some believe is the whole purpose of our existence. Hematite Merkaba is believed to form a spiritual shield around the holder. In upper dimensions, doing the act of subtle stabilization, the geometric shape of the human energy field is said to be in the shape of a Merkaba. Meditating with a Merkaba helps us to connect with our higher self & balance the root chakra as well..
Reviews