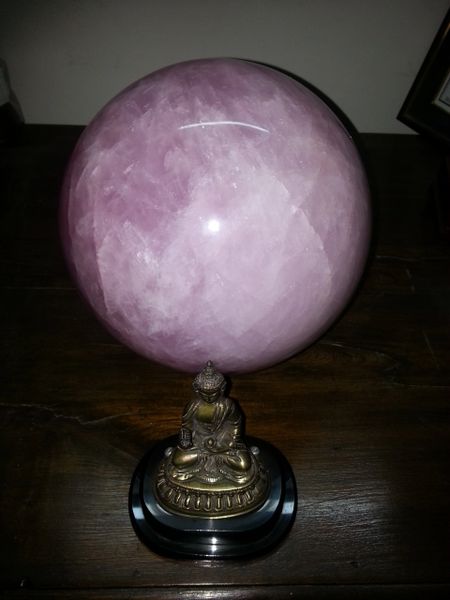 Grand Rose Quartz ball
Name: Grand Rose quartz ball (a Rose quartz sphere)

Color: Baby blush Pink in shades of pink to white

Shape: Pyramid a secret geometrical shape.Used for healing.
Size : 15400 gms weight
Metaphysical properties:
Rose quartz sphere power rises the heart chakra,
refering to alleged
paranormal
properties of the ancient
Egyptian knowledge use of pyramids, spheres
and objects of similar shape. With this power, model sphere are said to preserve foods,
sharpen or maintain the sharpness of razor blades,
improve health.Some people were so energized that they could not cope with the dynamo effects they experienced
, function as a thought-form incubator,
trigger sexual urges,
stone of Love and cause other dramatic effects. (WIKIPEDIA)
Rose quartz sphere power spreads
Love, Unconditional Love, Emotional Healing, Stress Relief, Unity stimulating Rose quartz is also known as,
Bohemian ruby or Hyaline quartz or pink quartz, the love stone. Rose Quartz is a pink variety of quartz crystal that is commonly found in Brazil and Madagascar. It is a silicon dioxide crystal and one of the more common types of quartz. Its color may vary from pale to strong pink, Value wise the stronger colored specimens demanding a higher price on the market, although pale and stronger colored specimens are considered to be equally valuable for metaphysical purposes.
Reviews