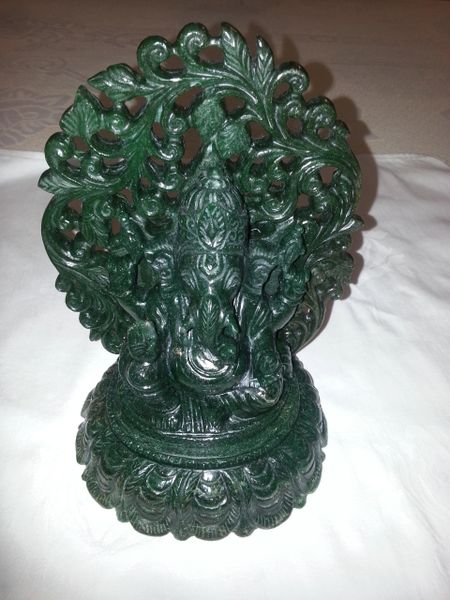 Ganesha on Carved Throne
Name:

Aventurine Ganpati Traditional filigree on stone

( The stones are natural and handcrafted )

Sku:

Id-1545

Color: Natural dark /bottle

greenish

colors




Semiprecious stone : quartz (natural)



You get : Beautiful handcrafted and traditional Ganesh in Aventurine quartz
Metal : Stone with gold leaf work
Net Wt in gms : 1545 gms approx
Metaphysical effects: stone of attracting wealth and opens doors of a persons heart to friendship and acceptance.

Read more:

·
Aventurine is a form of quartz, characterized by its translucency and the presence of other mineral inclusions that give a shimmering or glistening effect termed aventurescence. The most common color of aventurine is green, but it may also be orange, brown, yellow, blue, or gray.
·
Aventurine is used for a number of applications, including landscape stone, building stone, aquaria, monuments, and jewelry.
Green Aventurine is known as the "Stone of Opportunity," thought to be the luckiest of all crystals, especially in manifesting prosperity and wealth, or for increasing favor in competitions or games of chance. Its winning energy makes it a great ally for boosting one's chances in any situation - a first date, tax audit, even landing a promotion. One needs only to be near it to derive its benefits.
[Simmons, 55][Eason, 285]
Reviews