Ganesha Kangiten the Deva of bliss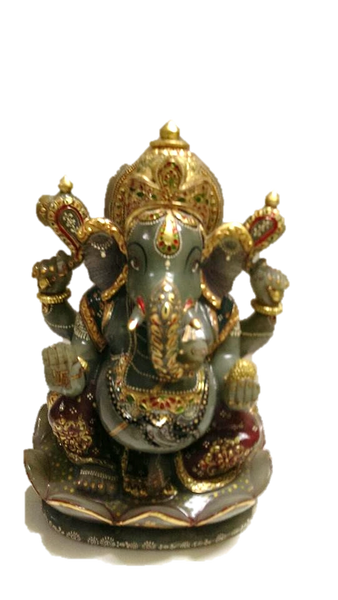 Ganesha Kangiten the Deva of bliss
Name:
Ganesh Kangiten the Deva of bliss
Sku:
Id-ACq-6040
Color: Natural crystal
Shape: Ganesha hand crafted
Semiprecious stone : quartz (natural)
Description : The translucent green color of Aventurine is beautifully crafted by traditional craftsmen of India. This is Made in India move, A great Gifting solution.
Metal : Stone
Wt in gms : 6040 gms
size: Height-10.5"X Length-6.75" X Width 4.75"

Metaphysical effects:
By just reading about the stones & crystals the effects will not change one has to experience the depth of the change while a person works with the Crystal & the figures drawn out of the Crystals are very much energizing as they are the building source of the power that lies dormant in the Human energy structure when in distress. The distress either due to karmic factors as reveled in the Astrological chart or in the Karmic mode of life both can be tackled with the upwards moment of energy of
Ganesha Aventurine quartz
in a particular formation as available. Bring home a deity who blesses with ministry of wealth & spirituality both as experienced by many a million.
Reviews